Senior kindergarten is a crucial part of the early education program for kids. Kids are introduced to new subjects and activities that help them improve their overall academic growth. If a child does not get a sound education at this age, it becomes extremely difficult for him/her to catch up later. Here are some senior kg worksheet and activities for senior kindergarten English lessons.
Alphabet
Make your children learn each letter in the English alphabet so that they can easily identify each English alphabet letter easily and accurately. VBH Publishers has a few alphabets English Senior KG Worksheet including Alphabet Book 2 and Alphabet Cursive Writing. Both sheets have English Alphabet, where your child can trace them separately and can learn writing skills as well.
Crosswords
These crosswords senior kg worksheet is very effective for your child when they begin to learn short words. The books include animal figures; Only your kids need to identify them and write the spelling in the puzzle. Kids can also see the picture and can find clues to identify the words. Great for ways to practice spelling.
Word Search Puzzle
Word search puzzles are the best and most interesting senior kg worksheet when it comes to learning and playing. Here in this worksheet, the child can get the scope to learn while playing. Can trace the given objects and place them in the puzzles.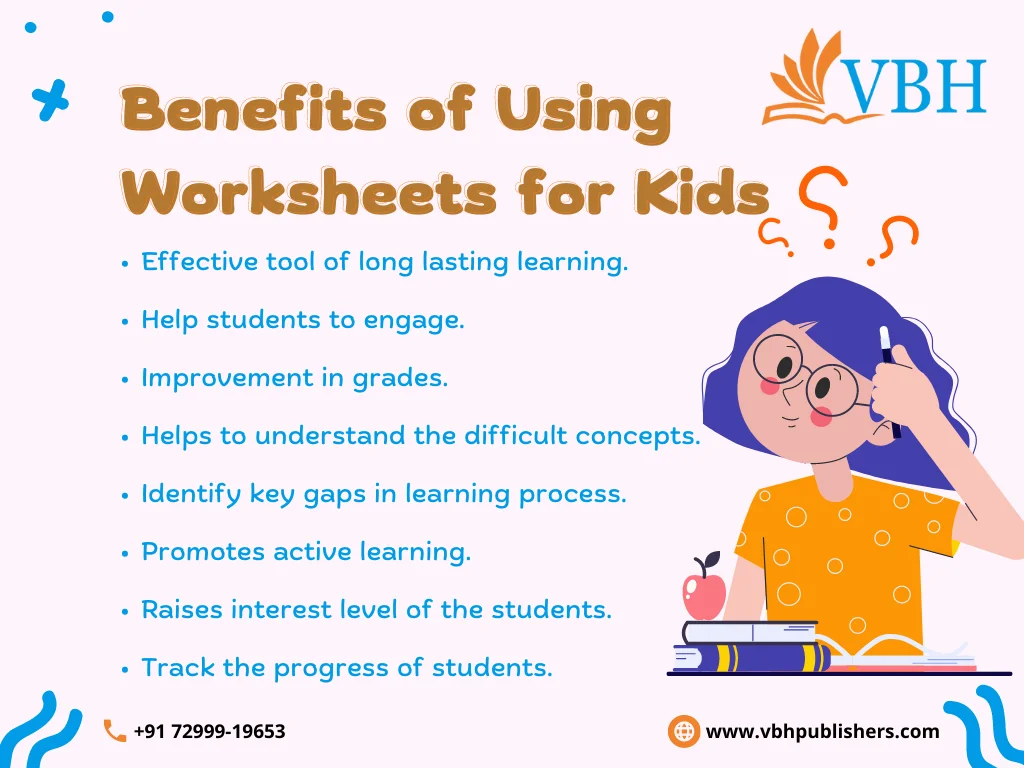 Alphabet Missing letter worksheet
This worksheet for senior kg books includes all missing numbers, and the child has to place the missing number in that blank worksheet. Here the child can gain vocabulary accuracy when they fill the gaps of missing numbers in right place.
Body Parts Worksheet
This worksheet covers all the body parts along with their body image. Here the child has to point out various body part seeing the particular image and this practice make them associate and memorize quickly.
Correct The Jumbled Letters
Having this senior kg worksheet helps your child to memorize the words very easily. It makes the child more proficient in learning the letter like all are on tip of the tongue, and can say profusely. The jumbled words worksheet increases your child's vocabulary and helps to develop critical thinking. The sheet complies with lots of images and jumbled letters corresponding to it. Your kids need to find out the correct sequence of letters and form a word to match the image.
Opposite Words Worksheet
When your little one learning words, your little learner should know the opposites of several words to master vocabulary skills. These worksheets have different antonyms of various word features with images for the kindergarten kids to grasp and recollect.
Beginning Sounds Worksheets
Beginning sounds worksheets are perfect for kindergarten and first graders kids, those who are learning new sounds out from words and developing phonemic awareness. Just to make their learning fun and interesting they can play with the words. Happy Phonics part I, part 2, and part 3 are a few books that are available at VBH Publishers, you can buy going to their website.
Degrees Of Comparison Worksheet
When it comes to the usage of the single word "Degrees of comparison" is best to teach your children the right implications of using one word. When the child learns a single word, it enhances understanding of positive, comparative, and superlative degrees – which is an integral part of English grammar. Learning these "Degrees of comparison" for various words promotes children to understand the dissimilarities between two or more objects.
Search The Word
Search-the-word puzzles are the ideal best senior kg worksheet Books for Kindergarten students. Doing this activity, enabling children to memorize words and letters. Doing this puzzles worksheet helps the children to visualize the animal and trace it in the puzzle.
Subject Pronouns
Pronouns can be confusing for kids. Please help your child understand the pronouns better by relating them with relevant images and doing a grammar worksheet. Practicing this worksheet can help to learn your child about the first-person, second-person, and third-person pronouns enjoyably and interactively.
Conclusion
Can identify the phonetic alphabet properly and know how to write it out.
Know how to write words and also how to write sentences.
Can learn how to use various punctuation marks.
Reading this Book can enhance how to use prefixes and suffixes and their meanings.
Know. how to use homonyms and their meanings.
Know, the use of phonograms and the rules
senior kg worksheet are most important for students. They want to learn English letters in school days. So above all these are points where a child could know when he /she doing all these worksheets.